Call for participation
10th human-centred technology postgraduate workshop
Working together to learn, research and succeed
University of Sussex, Department of Informatics in collaboration with London Knowledge Lab
December 6th 2007
10th human-centred technology postgraduate workshop
University of Sussex, Department of Informatics in collaboration with London Knowledge Lab
Call for participation
Building upon the successful organisation and running of 9 previous workshop events which focused on giving postgraduate students the opportunity to discuss their research goals as well as critically review and provide feedback on each others' work, we feel it's now time to shake things up and start looking at ways that we might support each other in learning about and practicing the additional skills necessary to complete a PhD. We invite you to help us CELEBRATE the 10th birthday of the Human-Centred Technology Postgraduate Workshop by taking part in an innovative, fresh and exciting day focusing on the PhD PROCESS.

This year's workshop, based in Brighton, will be a chance to not only get to know the other postgraduate researchers in the HCT field and present your work to the attendees through a digital poster session, but also an opportunity to actively focus on crucial progress specific skills which may help you complete your own research. The workshop will also provide the opportunity to discuss and work through research problems with other postgraduate students as well as with more experienced researchers.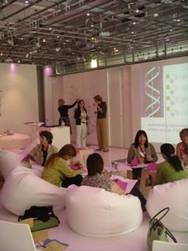 The workshop will take place in the InQbate Sussex Creativity Zone http://www.inqbate.co.uk, a technology-rich environment which supports collaborative and group work through its innovative, highly flexible, design.
Due to the interactive and collaborative nature of this workshop, spaces are limited, so get in early to make sure you've got a spot!